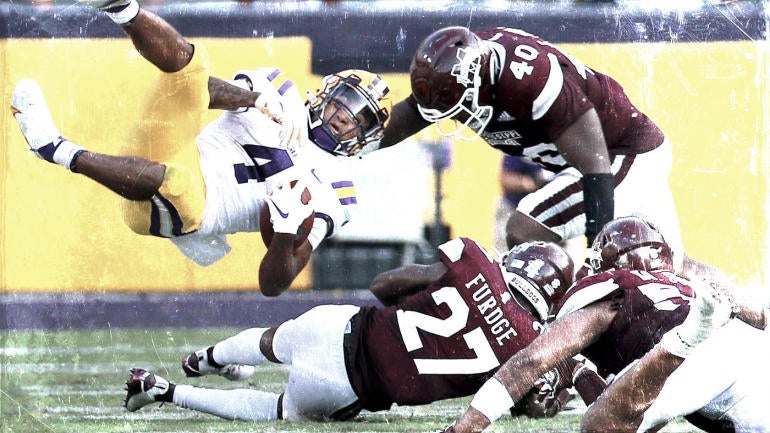 CBS Sports graphic
One of my favorite parts about the month of October in college football is how quickly the rankings adjust to those initial reactions from the opening weeks of the season. In "normal" seasons this, would still be the point where teams have finally have a couple conference games in the books and whatever kind of overreaction we made from the few September results worth noting has been put to the test by the grind of league play. 
Even in a "normal" year, this is the point where we identify an early-season result that has been proven to be wildly misleading. In 2020, that game is Mississippi State's 44-34 win at LSU. The biggest game on the SEC's opening-week schedule had everything fans could want, from the intrigue of seeing how the defending champs would replace Joe Burrow and more than a dozen starters to the SEC debut of Mike Leach. By the time K.J. Costello and the Bulldogs (who entered the game as 18-point underdogs) were done carving up LSU for 623 passing yards in the upset win, a new era was proclaimed in the conference. Mike Leach was here, we thought, and the league would never be the same. 
Well, while we did see scoreboard-breaking totals in the SEC this past weekend, none of it came from Mississippi State. The Bulldogs did not even score an offensive point in a 14-2 loss to Kentucky, a result that was preceded by a 21-14 loss to Arkansas. Ever since the Leach era started with lighting up LSU, Costello has thrown the ball 114 times and the Mississippi State offense has scored just two touchdowns.   
Now at 1-2, Mississippi State finds itself at the bottom of the SEC West standings with LSU. That same LSU team that started in the top 10 and provided the launching point for Mississippi State hype lost to Missouri over the weekend, as its defense has been officially exposed as the team's major weakness and a hurdle in defending its SEC title in 2020. The Tigers joined the Bulldogs as two of our most notable drops in this week's update of the CBS Sports 76 (more on that in the Mover's Report below), as our expectations for both teams have been lowered significantly since that thrilling SEC opener. 
College football experts from CBS Sports and 247Sports contribute ballots each week, which are averaged together for our rankings. You can see the top 25 below and 26-76 on our rankings page. Teams from the five conferences not yet playing in the 2020 college football season will be eligible for the CBS Sports rankings beginning Monday, Oct. 19.

Biggest movers 
No. 20 NC State (+17): First, the Wolfpack were winners as two-touchdown underdogs at Pitt and then followed that result up with another win as a two-score underdog at Virginia. NC State is surging with Devin Leary back in his place as the team's starting quarterback, and it's all happening at a perfect time with in-state
…